April titels:
Vivre sa vieSynopsis
Vivre sa vie was a turning point for Jean-Luc Godard and remains one of his most dynamic films, combining brilliant visual design with a tragic character study. The lovely Anna Karina, Godard's greatest muse, plays Nana, a young Parisian who aspires to be an actress but instead ends up a prostitute; her downward spiral is depicted in a series of discrete tableaux of daydreams and dances. Featuring some of Karina and Godard's most iconic moments - from her movie theater vigil with The Passion of Joan of Arc to her seductive pool-hall strut - Vivre sa vie is a landmark of the French New Wave that still surprises at every turn.
Disc Features
* New, restored high-definition digital transfer (with uncompressed monaural soundtrack on the Blu-ray edition)
* Audio commentary featuring film scholar Adrian Martin
* Video interview with film scholar Jean Narboni, conducted by historian Noël Simsolo
* Television interview from 1962 with actress Anna Karina
* Excerpts from a 1961 French television exposé on prostitution
* Illustrated essay on La prostitution, the book that served as inspiration for the film
* Stills gallery
* Director Jean-Luc Godard's original theatrical trailer
* New and improved English subtitle translation
* PLUS: A booklet featuring an essay by critic Michael Atkinson, interviews with Godard, a reprint by critic Jean Collet on the film's soundtrack, and Godard's original scenario
Ride with the DevilSynopsis
With this new director's cut, Ang Lee reconstructs his original vision for his Civil War epic, Ride with the Devil, an intimate, harrowing look at a country torn in half, told from a daringly unorthodox perspective. Set in 1862, during the Kansas-Missouri border war, the film stars Tobey Maguire as Jake and Skeet Ulrich as his friend Jack Bull; they join the Confederate-sympathizing Bushwhackers after Jack's father is killed by marauding members of the abolitionist Jayhawkers. But Ride with the Devil is also the story of their unusual ally Holt (an astonishing Jeffrey Wright), who's fighting for the South despite being a former slave. A rumination on identity and loyalty, both political and personal, Ride with the Devil is a provocative challenge to preconceptions about America's bloodiest conflict.
Disc Features
DIRECTOR-APPROVED SPECIAL EDITION:
* New director's cut of Ride with the Devil, featuring thirteen minutes of added footage
* New, restored high-definition digital transfer, approved by director Ang Lee and director of photography Frederick Elmes (with DTS-HD Master Audio soundtrack on the Blu-ray edition)
* Two audio commentaries, one featuring Lee and producer-screenwriter James Schamus and one featuring Elmes, sound designer Drew Kunin, and production designer Mark Friedberg
* New video interview with star Jeffrey Wright
* PLUS: A booklet featuring an essay by critic Godfrey Cheshire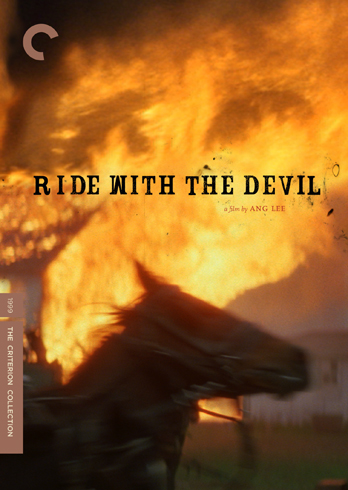 The Fugitive KindSynopsis
Four Academy Award-winning actors - Marlon Brando, Anna Magnani, Joanne Woodward, and Maureen Stapleton - sink their teeth into this enthralling drama, which brings together the legendary talents of director Sidney Lumet and writer Tennessee Williams. A smoldering, snakeskin-jacketed Brando is Val Xavier, a guitar-strumming drifter trying to go straight. He finds work and solace in a southern small-town variety store run by Lady Torrance (Magnani), who's lonely, sexually frustrated, and abused by her vile, deathly ill husband, and who proves as much a temptation for Val as local wild child Carol (Woodward). Lumet captures the intense, fearless performances and Williams's hot-blooded storytelling and social critique with his customary restraint, resulting in a drama of uncommon sophistication and craft.
Disc Features
DIRECTOR-APPROVED SPECIAL EDITION DOUBLE-DVD SET
* New, restored high-definition digital transfer, approved by director Sidney Lumet
* New video interview with Lumet
* New documentary featuring Tennessee Williams scholar Robert Bray and film historian R. Barton Palmer discussing Williams's work in Hollywood and The Fugitive Kind
* Three Plays by Tennessee Williams, an hour-long television presentation of three one-act plays by Williams, directed by Lumet in 1958
* PLUS: A booklet featuring an essay by film critic David Thomson
Summer HoursSynopsis
Widely hailed by critics as 2009's best film, Summer Hours is the great contemporary French filmmaker Olivier Assayas's most personal film to date. Three siblings, played by Juliette Binoche, Charles Berling, and Jérémie Renier, must decide what to do with the country estate and objects they've inherited from their mother. From this simple story, Assayas creates a nuanced, exquisitely made drama about the material of globalized modern living. Naturalistic and unsentimental yet suffused with genuine warmth, this is that rare film that pays respect to family by treating it with honesty.
Disc Features
DIRECTOR-APPROVED SPECIAL EDITION:
* New, restored high-definition digital transfer, approved by director Olivier Assayas and cinematographer Eric Gautier (with DTS-HD Master Audio soundtrack on the Blu-ray edition)
* New video interview with Assayas
* A short documentary featuring interviews with Assayas and actors Charles Berling and Juliette Binoche, and showing the cast and crew on set
* Inventory, an hour-long documentary by Olivier Gonard, shot partly in Paris's Musée d'Orsay, that examines the film's approach to art
* Theatrical trailer
* New and improved English subtitle translation
* PLUS: A booklet featuring an essay by critic Kent Jones