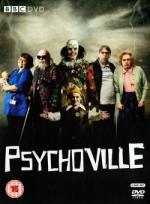 Psychoville (2009) 8/10
Heb enkel Dieter er wat over zien posten, dus weet niet of hij voor anderen door de mazen van het net is geglipt, maar is een erg leuke BBC comedyserie door de makers van League of Gentlemen.
De typetjes doen daar vaak erg aan denken en zijn haast net zo leuk, maar waar LoG steeds aanvoelde als een samengeharkte serie sketches waarmee de groep al jarenlang podia deed, zit hier een veel beter uitgewerkte verhaallijn achter. Tjokvol verwijzingen naar horror en thrillerfilms, maar nooit gratuit, met als hoogtepunt een aflevering die helemaal in één take werd opgenomen als eerbetoon aan Hitchcock's Rope.
De serie eindigt wel met een joekel van een cliffhanger - onverwacht voor me want wist helemaal niet dat er een tweede seizoen bestond. Snel 'ns naar op zoek gaan.